Interview: Anya Marina at Cafe 939
Last Friday my girlfriend and I ventured to Cafe 939, Berklee School of Music's new cafe / venue.  The venue is intimate and perfect for sit down, singer songwriter gigs.  No alcohol is provided so make sure to grab a brew at a near by bar.  For me, that's Bukowski's.  Had to grab an Anderson Valley Pale Ale and some sweet potato fries before taking in our first Anya experience.  An experience it was although short lived.
If you've never listened to Anya before, I would describe her as a having a sulky and jazzy voice with a touch of Macy Gray.  She's also an exceptional entertainer.  Usually when artists start rambling on stage I want them to shut up and move on to the music.  But in the case of Anya, you want her to banter on.  At this show she talked about taking Ambien for the first time while on a long flight and coming out of the experience with 20 pages of stellar song lyrics, or what appeared at the time to be worthy of applying to new songs.  However, when she came to, the 20 pages looked more like hieroglyphics then words.
I was lucky enough to grab some time with Anya before the show to learn more about her style, what inspires her and what she's making of her recent success.
Interview
Kip: You were a DJ for some time.  How long have you been writing your own music?
Anya: Ten years ago was the first time I ever wrote a song and started touring about 5 years ago and getting out of San Diego and when I really started taking it seriously.  It's also when I put out my first real album, which I put out on my own (super DIY) and maybe 5,000 people have listened to it so far.
[We both tried to bring out our math skills to figure out how many people a year that comes out to.]
Kip: How long have you been with your current label?
Anya: I just signed up with them last summer
Kip: Are they an independent or part of a larger label?
Anya: Well my budget is very indie rock but they're a subsidiary of Atlantic Records.  For example, I've been touring since January and I have to tour solo.  I can't bring a band so you'll see me tonight with my band which is my trusty iPod full of beats.
Kip: What about your current tour mates?
Anya: I'm on tour with Greg Laswell and Jay Nash for the next two weeks. And I've been with them for like ten days.
Kip: Have you guys jammed around at all?
Anya: Yeah, we're trying to but I don't know what our problem is.  Nobody even has a good excuse.  Nobody even smokes pot in this group but I think it's just the time constraints.  Like tonight we're suppose to work out a song during sound check but it's not going to work out cause I'm spending some quality time with you and I'd rather be doing that.
[she's a charmer but in reality, they must have rehearsed because they jammed out at the show and it was pretty tight]
Kip: As a DJ, you must have some influences.
Anya: I should know music more and I should make a new list cause this question comes up every interview.
Kip: Forget big influences then what are you listening to right now?
Anya: That's a good one but that's also embarrassing because I just sit in the car in silence but let me think.  The last thing I did listen to…is this Peter Cetera…
[Anya starts singing the lyrics - and yes, it is Peter Cetera.  Song is "Get Away (Hard to Say I'm Sorry)"]
… "And After all that's been said and done".  That was on XM today and belted that one out loudly.  A guilty pleasure.  Also Grease, the musical.  That song by Frankie Vallie.  I love that one.  But what CD's do I have with me, none.
But I did make a new mix recently so let me get that out.  Oh, ok, Lissy Trullie who I just toured with The Virgins whose new album I'm loving.  Love The Kinks.  Mickey Avalon, Missy Elliot, Bright Eyes, Desmond Dekker, T.I. who I might cover tonight (she does, see video below).  The Kills I love and The Peaches.  Deerhunter, Joan as  Police Women.
Kip: Is there a level you are aspiring to or are you happy where things are?
Anya: I want to sustain this career as long as possible.  I'm extremely cautious and I can't ever relax because I've worked on the other side of things and you see so many flashes in the pan so I am just thrilled to bits that I have any kind of momentum happening now.  Honestly, when I had a little review in Filter I freaked out cause I use to read Filter every day for show prep on the radio.  It's really exciting to have people writing about stuff because you know it can be gone or it will be gone shortly so I know if I can just sustain a career in terms of having a following and having crowds grow and people keep coming out to shows year after year, that's all I really care about.  And hopefully I'll be good with saving my money.
Kip: What has been one of your favorite experiences so far during this current run?
Anya: The Jimmy Kimmel show is up there but it was so strange.  I think I just thought I was way more prepared then I actually was that I didn't anticipate I would have a fucking panic attack on national TV.
Kip: But did the performance come out well?
Anya: According to my friends and family it was great but in my head it was the worse thing ever.
[Watch the performance on YouTube]
Kip: Did you get to meet Jimmy?
Anya: Briefly. He seemed trim.
Kip: Like clean cut?
Anya: Like fit. Trimmer then I thought.  He seemed healthy and attractive.  It couldn't have been nicer and that green room was a party.  And it's not like this, there's a fucking party going on back there with tons of people with the guests and their fifty friends and there's a full bar.  You almost forget there's a show happening.
Kip: Who were the guests?
Anya: Rosie Perez and that guy from Pinneapple Express.  A really funny guy but can't remember his name right now.
Kip: Did you get to meet them at all?
Anya: No, I was in a weird panic.  I was just doing yoga breathing back stage by myself staring at the wall.
Kip: If you could describe your on stage presence what would you say?
Anya: I would say, duct tape on nipples.
Kip: That's a good one.
Anya: I don't know, I guess you could say variety show. I would say non-shoegazer.  I'm just trying to connect and have a good time and hopefully bring some peeps along with me.  But sometimes, hearkening back to the nipple duct tape comment, I have a really difficult time with my filter.  So I'm trying to work on my filtering.  But I can't help it.  When I was touring with Lissy Trullie and The Virgins, Lissy said after the tour, "all of us are trying to figure out how you get away with what you get away with".  And I was like, "what do you mean", and she was like, "you say so much dirty shit on stage and yet you look like this sweet little sort of angelic figure how do you do it and why do you do it".  And well, a.) I don't think what I say is dirty or is it?  And b.) if it is I can't afford therapy right now cause I don't have medical insurance so the shows are just a way of me getting out the many many many things in my head.  My acupuncturist says I think too much.
Kip: Has the acupuncture been working for you?
Anya: Well I did it last year then I ran out of insurance and I realized I didn't have it covered so once I saw I had to pay $500 bill I stopped going.  But I think it worked.  I more just liked going to talk to her cause she had a really thick Chinese accent and she would just take my pulse like this.
[grabs my wrist]
And say things like, "mmmm, no wonder".
[Anya doing her best impression of a Chinese accent]
And I'm like, no wonder what?
Links of Interest:
Here is Anya covering T.I. at this show: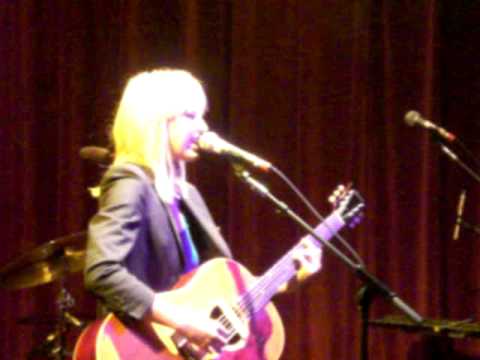 You can hear a better recording of her T.I. cover over at PasteMagazine.com